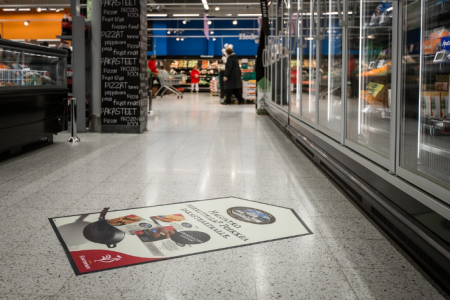 In-store advertising makes difference
InStore Media Ltd offers advertising space in grocery stores. With our all-inclusive service you will put your marketing campaign easily into practice. InStore Media offers an effective way to increase the visibility of your products in the grocery stores. By standing out right at the point of purchase, the floor advertising and shopping basket advertising increases brand awareness and drives sales right where the shopping decisions are made. InStore Media is your partner when you want to be seen in the only place where product, ad and customer meets!
Products and services
InStore Media's main products are floor ads and shopping basket ads and the services of our distribution network according to customers' individual needs.
In-store advertising as a part of the marketing chain
In-store advertising is part of the marketing chain. In-store ads reminds the customer in the store about the message they have seen e.g. on tv, radio, print or in social media.
Coverage
In-store advertising is possible at this point in almost 700 grocery stores around Finland. The largest groups are Kesko and S-group. For example, the coverage of K-Citymarkets is over 90% and K-Supermarkets around 80%. All store types from market size store to hypermarkets are represented. Stores can be chosen according to stores' location, size, chain/group, name and so on.
Target audience
Target audience of the in-store advertising is grocery store customers. Audience can be segmented according to the size or location of the store.
Placement of the ad
Floor ads are always placed strategically within the customer journey. It shows the way to the product in the store. In 'two stickers tactic' there one large leading sticker in the main aisle, and other smaller ad in front of the product. 'Small sticker method' draws attention to several similar products. Sticker can also be positioned just where you want information to be displayed.
Shopping basket ads are at the bottom of the basket. Shopping basket advertising provides continuous advertising throughout a shopper's trip. Campaign includes 25 shopping baskets in one store.
Exclusivity
InStore Media guarantees exclusivity to your product in its category concerning InStore Media's products.
Cost per Thousand
Gross contacts in K-Citymarket during six weeks campaign are approximately 8,1 million. Contact price is 1,40 euro/1000 contact. Advertising space for one week in one hypermarket is under 27€.
Discount for the media office
We permit 15% discount to media and advertising offices.
Size and form of the ad
Floor sticker's maximum size is commonly 800mm x 1200mm. Small sticker is about 200 x 300mm. If desired sticker size is bigger than 1,5m2, please consult us beforehand. Sticker can be cut in shape without extra cost.
Size of the shopping basked ad is 330mmx200mm. Ads to curved baskets will be cut in shape. We take care that ads' shape is correct to chosen stores.
Materials and printing
We use only quality materials, which we have tested to be long-lasting and suitable for floors and baskets. Printing is carried out with a minimal cost to the environment.
Printing company adds text "InStore Media" with 10mm high letters into the site of the sticker. Ad amount includes 5% extra copies for maintenance purpose.
Material deadline and transfer
Material for the ad must sent 30 days before the campaign starts. Transfer can be done e.g. with WeTransfer -service.
If you need more information about material requirements, please contact us.
Campaign period
Time for the campaign can be freely chosen. Basic duration for a campaign is 6 weeks. It can be extended with extra weeks.
Ads will be delivered to the grocery stores on Monday and Tuesday on the first week of the campaign. They will be cleaned during the next week after the campaign has ended.
Terms of payment
14 days net, from the beginning of the campaign.
Number of stores in the invoice
Total amount of the grocery stores may decrease from the number given in the agreement. This might due to stores' redecoration etc. obstacles to install ads. Invoice is based on realised number of stores.
If the reason for failed installation is due to clients' action, e.g. product is not available in certain store, InStore Media has right to charge 32€/pointless visit. If the reason is renovating the floor etc., it is not counted as a pointless visit.
Cancellation of reservation
If reservation is cancelled 20% of the price will be invoiced. If reservation is cancelled 14 days or less before beginning of advertising period, 80% of the price will be invoiced.
Rights for changes reserved.
CONTACT US
Let us boost your sales with outstanding marketing! Enquire for a proposal and pricing details today!